Pawleys Island, June 17, 2006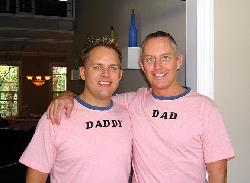 Thanks Tabatha for the Dad and Daddy shirts!
A baby shower was held at our home Saturday June 17, 2006. It was a wonderful day organized by good friends Megan and Tabatha with a lot of help throughout the day from Kathleen. The weather was a little hot but otherwise perfect! We thank everyone who attended (over 100 friends and family) for the well wishes and wonderful gifts for Carrigan. Thanks for all the wonderful food too (Tabatha's mother gets the credit for the delicious pork). We thank the many friends and family who drove from Atlanta, Hendersonville, Columbia, Florence and surrounding communities. We know the traffic into Myrtle Beach is terrible this time of year and we love you for fighting through it to be part of our celebration. What a great day it was...baby shower in the afternoon...pool party in the evening! (click on any picture to see a larger image).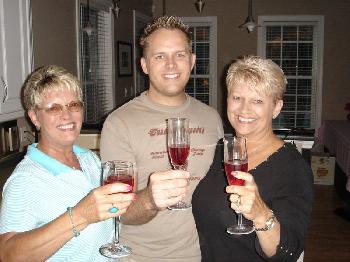 Sandra, Tommy and Donna the night before the shower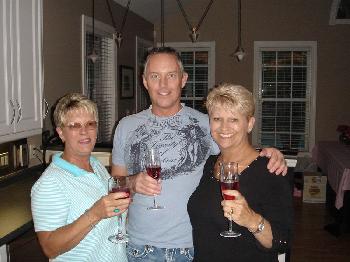 Sandra, Jeff and Donna the night before the shower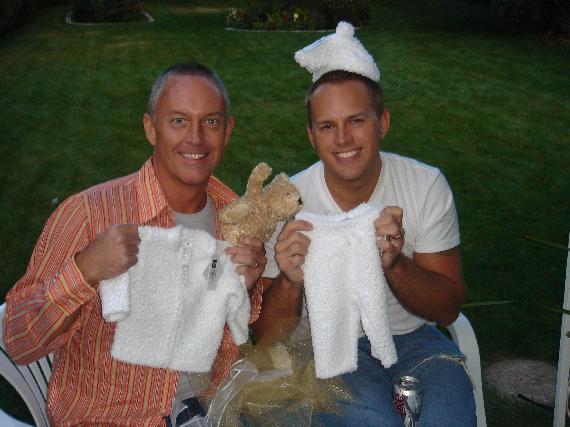 Jeff and Tommy's first baby gifts (yes that is the baby's cap on Tommy)

After first meeting Stefanie in Los Angeles September 2005, we flew to Utah to spend the weekend with Jeff's family. After a backyard cookout on a beautiful day in Ogden at Jeff's parent's house (where they have lived for over 60 years), Jeff's sisters and nieces surprised us with our first gifts for the anticipated baby. This is before we had even transferred the embryos! Knowing we have such true faith, love and support from both of our families helps fortify our stength to face the challenges of this journey.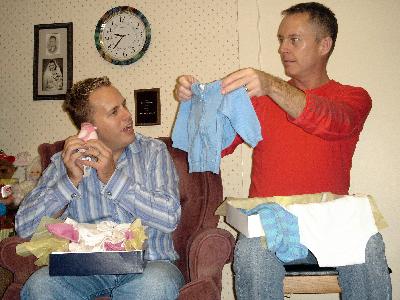 Tommy & Jeff surprise baby shower Christmas in Utah 2005

We were completely surprised when, after opening Christmas gifts with all of Jeff's family this Christmas in Utah, his sisters and nieces gave us wonderful gifts for the little Bean. The love and support we get from both of our families is simply a beautiful thing. Thanks for the cute soft "onesies", baby Gap striped outfits and Gymborie nighties!