This section will highlight the many pictures we take of Carrigan. They are in reverse order with most current on top.
Carrigan was born July 25, 2006 at 10:45 pm Pacific Time

Carrigan at birth was 8 pounds, 2 ounces; 18.5 inches long, very healthy

Carrigan is beautiful, alert, lots of dark brown hair, blue/hazel eyes, well tempered, sweet (so far!)
12-17 months old August - December 2007: Carrigan is a busy little girl!

Carrigan's gone from learning how to walk, to running with each day bringing a new cute thing or word! She's learning so much and is able to recall most things like animal sounds, colors, Christmas ornaments and where she left her things. She's a fussy and clean girl too...she picks up the smallest things Kitty drags in from outside and she goes to the trash cabinet, opens the door, discards the trash in her hand, then closes the door. She closes every door behind us...and can open any door in our house. Needless to say, we are having too much fun running around behind her to be able to update the web site. But here you go...the last five months in pictures. From a week in P-Town MA with our friends Patrick and Jim and their son Ethan, to Disneyland in CA with our surrogate Stephanie (wonderful to see her after a year!) along with our friends Ryland and Mark and their son Max, to a weekend at Edisto beach with our friend Kirk and his son Ryan, to Halloween with her three costumes (Duck-Duck of course was her favorite), to preparing for Christmas. Enjoy her progress with us.



11-12 months old June - July 2007: Carrigan is a year old!

We have been looking forward to Carrigan's 1st birthday. She is now 24 pounds and 30 inches tall. She is soooo close to walking. She took four steps on her own, stopped then walked another step. We count that!! She is saying many more words now...banana, yellow, balloon, hello, hi, mimi (Tommy's mother), ma (for Tommy's grandmother), no-no (to Kitty and the wall plugs as she crawls by), duck-duck...and of course our favorites: dad and dadda (daddy). She has begun teasing Kitty. She drops a Cheerio on the floor knowing that Kitty will come get it. When Kitty does, Carrigan jumps up in her playstation making a big noise and Kitty runs away. Then Carrigan laughs a hearty laugh. They are on their way to becoming best friends. Enjoy Carrigan turning a year old with us!



I'm going to be 1 year old this week!

Friends & family sign a plate for Carrigan

Our princess enters the party

Oh these old things....diamonds I found under my pillow!

Let's party

Bubble machine!

I love my new swing Dad hung from the Oak tree!

Dad, can we go swimming with the other kids?

Carrigan loves swimming with Dad

The day after the big party. The weather was so nice I got to take a nap outside with Dad!

I love Daddy when he puts my toys on his ears and nose! It makes me giggle.

Duck...Duck

I can almost walk without Dad's help...look at me concentrate.

I get to play my new baby grand piano Dad & Daddy got me for my birthday!

I love this sun dress given to me by the O'Neil family! Thank you!!

I'm a big girl now...look at my pony tails.

July 25, 2007...my birthday! With Dad and Daddy waiting for our table at Austin's Ocean One restaurant in Pawleys Island (it was delicious!)

Thank you, Dianne, for making this cute birthday jumper!

I've had a great birthday week! And thank you everyone for all your love and sharing it with me!!
7 - 11 months old March - June 2007: Carrigan's adventures

We have been busy these past four months. Carrigan went with us to Jazzfest in New Orleans, we met other Daddies and their daughters in Dallas, we made a couple of weekend trips to our cabin in Hendersonville, NC and we are even occasionally at home and in the pool at Pawleys Island. Carrigan is crawling, standing up, talking, laughing, watching Baby Einstein, loving books...every moment is an adventure. Carrigan's personality is really here. Assertive, sweet, funny and playful. She points one finger at everything she sees. She's taught us to touch our pointed index fingers with hers...sort of like ET did in the movie. This is our new secret "I love you" sign...index fingers touching.

She loves meeting people and quickly plays well with other children. She saw her first ocean (and for the first time she showed a little fear of the big waves). Catch up on Carrigan over the last four months with the following 88 pictures:



| | |
| --- | --- |
| Jazzfest in New Orleans. Gospel music tent: Carrigan learns to wave a white hankie along with the wonderful soul-infused gospel music. (Rusty would have loved this!) | Held up high in the crystal blue New Orleans sky: Carrigan radiant |
| Carrigan & Dad: It's hot in this tent! | Bouncing along with the music on Daddy's shoulders |
| I love this music, Daddy! | She loves her Dads. Her Dads love her! |
| Perfect day for a picnic in Jackson Square, New Orleans | At home with her Gap (Product) Red t-shirt to benefit Africa and the fight against AIDS |
| Getting ready at the Mansion on Turtle Creek in Dallas - Those blue eyes are breathtaking! | Oh Dad, enough pictures. Let's go meet the girls and their daddies! |
| Carrigan meets Sydney when we have dinner in Barry and Richard's beautiful home in Dallas | It's fun here, Sydney has different toys! |
| Sydney hugs Carrigan: best new girlfriends! | Sydney & Carrigan with Bryan's twins, Ariana and Emma |
| Carrigan's first swing set in Sydney's backyard | Playing with the stuffed turtle they gave me at the Mansion on Turtle Creek! |
| Big day meeting new friends: cuddle up and sleep on Dad | I just woke up - sweet pea! |
| You can see my teeth coming through! | Why shouldn't I be the happiest baby on Earth? |
| See me standing in my crib (this was last day for the bumpers since she climbs on them) | Hi Dad...come pick me up |
| Blue eyes, baby's got blue eyes... | See me climb the bumpers (out they came) |
| After bath and a little creative flip in my hair from Dad | Spring is here! |
| I'm getting ready for Easter | Dahling, don't I look too cute! |
| So alert and interested in everything | It's more fun to play with my hat than to wear it |
| Dad's favorite I-Pod model! | I'm tangled |
| Which Baby Einstein track do I want to hear? | Just push the play button |
| Easter is here! | I can climb anything! |
| Look what the Easter Bunny left Jeff & Tommy | In the Hendersonville cabin |
| Let's go visit Ma (Great Grandma Starling) | Carrigan napping with her Mimi (Donna) and cousin Mackenzie |
| Retro 70's halter top style: smashing on Carrigan | I'm having fun today! |
| Dad loves this picture of his family (Kitty is also sleepinig just outside the picture) | I'm ready to see Hilton Head |
| Hello gorgeous | Kick back nap |
| Weekend late morning cuddle with Daddy | Determined and having a blast! |
| Carrigan in her play pen | My own little pool in the back yard |
| Cousin Mackenzie splashing water on Carrigan | I think its gonna be a great summer! |
| Get me warm and dry Daddy | I got that wet diaper off me so I can get dry! |
| The dads will use this picture later in Carrigan's life to embarass her when she needs it | Oui oui Papa! Bonjour. |
| My first pony tail...silly | Nap time. |
| I'll nap after you take out the rubber band on the pony tail | Mission underway (the pursed lips "I'm focused" look) |
| Picture of the year (we think). Carrigan's first day on a beach at Kiawah Island. | The ocean is bigger than me...yikes! |
| I'm not sure about this sand, however | Ok, I'll put just one finger in the sand to see what its like |
| All preppy in my Polo tennis dress | Dad, I know we're at a golf course but I'm a little worried about the pants Daddy is wearing... |
| I crawled the longest hallway at The Sanctuary (protected by a spirit sphere over my left shoulder, probably Grandma Littlefield watching over me) | Back at home, another preppy outfit |
| Oh, Daddy...I love you | Check out the shoes! |
| Daddy, Dad and Carrigan get a visit from Jay | Jay surprises Carrigan with some great early birthday gifts! |
| Great toys, Jay! | I love my 360 playstation |
| Here Dad, put this monkey ring on your ear (yes dear) | Wonderful weekend afternoon with Dad |
| Just days away from being 11 months old | I love the spit curl Dad, thanks! |
| The things I will show you Dad. Just keep watching. | This may be the second best picture of the year... |
| Kitty tries to stay out of Carrigan's way now that she's crawling | Tommy at his surprise birthday party Jeff held June 23, 2007 |
| Dad watches over Carrigan in the pool | Carrigan and Dad love to splash in the pool together! |
| See how I've grown | Perfect moment in time |
December 2006 - March 2007: Christmas and New Year






Christmas 2006 - With Tommy's family in Hendersonville, NC

Oh Dads!

Donna (Mimi), Carrigan and Morris (Grandpa)

Time for another change of clothes!

Ready for lunch...I eat real food twice a day now

Christmas at our new mountain cabin in Hendersonville, NC

"The best Christmas gift we'll ever get, was sometimes sad and sometimes wet"

Tommy, Donna, and brother Brandon

Cousin Layla and Carrigan enjoying a group cry!

Cousin's Layla & Mackenzie with Carrigan

Great Grandpa, Mimi, Carrigan & Mackenzie

Future Cousin Amy (holding Carrigan) with Layla & Mimi

Ma loving Carrigan

Carrigan loves her bed-bye story time with the Dads

I'm ready for my rocket Daddies!

It's cold outside...there's nothing wrong having two hats on

Dad, Pumpkin & Kitty

I'm trying to get the hang of this tippy cup

Teething...two bottom teeth are showing!

I love bathtime and hairwash styles!

Daddy taking Carrigan to her first swimming lessons...she loved it!

Carrigan takes to water almost like she spent her first nine months there!

Kick and float! Hold me tight Daddy.

I love swimming but its cold afterward!

Dressed up for dinner with my Dads (they take me out to nice places often...I love it and behave like a little lady)

I'm learning how to almost stand up on my own (with some help from Beary)

Who's that cute baby in the mirror?

All decked out for my 6 month birthday dinner at Frank's Outback!

Oui, oui Daddy

Yes, I know I look cute!

Oh my, bad hair day. Time for my first haircut! We trimmed her side curls and saved them

Thanks for the professional cut, Dwayne

I roll all over the place now among my toys

Hop on Quacker!

I can't tell which toy I like best

Learning out to sit up on my own. My future personal toilet given to me at my baby shower by Teryl.

Here I am in Miami getting on the R Family Caribbean cruise with my Aunt Sandra, Mimi, Daddy and Dad (behind the camera as usual)

Safety training on the Norwegian Jewel cruise ship...I get my own life jacket!

Out on the Atlantic Ocean! Let's go!

Rough day being the cutest baby girl on the ship

Mimi loved having a week with Carrigan helpng the Dads

Daddy, Rosie O'Donnell and Kellie saw me in the hall and said "what a cute baby!"

Eating lunch by the pool incognito

I kick my legs real well Daddy...sorry I got water in your eyes!

I love my Dad and he loves me!

We R Family!

My first two piece swim suit!

I love my swim suit and Blah Blah doll

Look at the pearl bracelet the very nice ladies in the jewelry shop on the cruise ship gave me. They were so nice. I love it!

I'm ready to go see Gloria Estefan perform! (She was GREAT)

Daddy, Mimi, Aunt Sandra and Carrigan

Please, no more paparazzie, I just want to sit by the pool incognito

Yes, Dad, this looks good with your shirt!

On land at last in St. John's. That's my ship back there, I have a penthouse suite. I'm worth it.

Aunt Sandra, Daddy, Mimi and Carrigan beside our ship.

Aunt Sandra is so much fun!

I'm ready for a tour around the ship decks, Dad!

I can see myself everywhere!

I love my Daddy and he loves me!

I liked St. Thomas US Virgin Islands the best!

Mimi, let me see those sunglasses

All ready for the tropical/pirate party! Yes, Carrigan is wearing a grass skirt.

Let's go to the tropical/pirate party on the pool deck!

I think I look good

My wobbly standing/dancing makes for a perfect hula!

We met up with a good friend from Growing Generations, Dr. Kim Bergman!

Kim's wonderful and smart daughter, Libbey

Another good friend on the ship, Jennifer Chrisler, Executive Director of the Family Pride Coalition

Good morning!

How could today not be wonderful when you are greeted with this face!

Josephine, our room's maid and Maxi our butler, did such an amazing job shaping towels into different animal shapes each day. They were so nice to me.

Sweet polka dot dress.

Last night on the ship...50's party and "Grease" show. I look sweet in my poodle skirt and scarf!

"I'm the one that you want! Hoo, hoo, hoo, baby."
4 months old - November-December 2006: Carrigan loses Grandma

We couldn't pick just one costume for Halloween, so Carrigan had a couple.

Jeff, Tommy & Carrigan went to New York City where Carrigan got to be with her cousins Marci & Sam and their children, Jake, Spencer and Alli. Carrigan became an expert riding taxi cabs and the subway. We had a great time and Carrigan, the little trooper she is, was just great.

Then Jeff's mom became gravely ill. Jeff flew with Carrigan to be with his mother and arrived Wednesday night, November 15, 2006 (Tommy came the next day). Jeff's mom, Myrtle, had been in and out of knowing what was going on but when Jeff and Carrigan arrived, Myrtle became very alert and reached out for the two of them. She whispered to Jeff that she loved him and said the word "baby." She held Carrigan for many minutes and even managed a smile or two as we took pictures. After about 20 minutes, Myrtle went to sleep comfortably but she was never that alert again.

Carrigan's grandma passed away early the morning of November 18, 2006. Jeff was the first to arrive at the hospice. He comforted his Dad and had a quiet, very special, period of time to be with his mother and to say goodbye to her knowing she was completely at peace.

Sleep in heavenly peace, Mom.



3 months old now - October 2006: Full night sleep!

Carrigan has finally started sleeping all night long. She recently slept from 9 pm to 6 am. What magic that is for us! It's amazing how much of a blur the first two months were with lack of sleep. Carrigan's growing so fast and this month her personality started to show. She's a happy baby, full of big milky smiles for Dad and Daddy. She coos and laughs herself to sleep. We knew we would love Carrigan, our precious baby, but we really didn't know she would be so much fun!



2 months old now - Sep 19 - Sep 29, 2006: Smiles!
Carrigan has felt really great the past three weeks and smiles a lot. Jeff has travelled a lot for work the last three weeks while Tommy has been 24-hour Daddy. The pictures Tommy emails Jeff every day help give him his Carrigan "fix" while he's away.
25-60 days old - Aug 18 - Sep 17, 2006: Searching for a routine
We haven't posted on this site for a month because, frankly, we are even more exhausted. Carrigan now weighs 11.5 pounds. September 1, 2006 was a great day...the day the Carrigan smiled at each of the Dads in response to us talking to her! We spent a quick weekend in New Orleans where Carrigan was the cutest attraction on Bourbon Street as we sat in our doorway watching all the crazy people go by during Southern Decadence.
10-24 days old - Aug 4 - 18, 2006: Settling in
We haven't posted on this site for 10 days because, frankly, we're exhausted. Carrigan continues to be a jewel and rarely makes a fuss but the amount of time and energy it takes from both of us is intense. Getting up throughout the nights, cleaning clothes and bottles throughout the day while nurturing and bonding with Carrigan is a wonderful more than full-time job for both of us. We have a deep respect for all single parents now we know how much work this is...how do they do it?? We had a fun day taking pictures of Carrigan with an artistic point of view and went to Hendersonville, NC to visit Tommy's grandmother, father, mother, aunts and grandfather. What a wonderful time.
OK everyone, there is finally a bow in her hair! Enough already!

Our sweet princess looks amazing in teal

We're getting Carrigan used to great women...she's wearing a onsie with a picture of the great Billie Holiday!

How's Carrigan doing, Dad? (Kitty)

Soooo big!

Every little thing is a miracle

1 daughter to love

Great friends Megan & Jason meet Carrigan (They just got engaged...congrats!)

Carrigan settles into slumber in her crib

What can I do tomorrow to be even more precious?

Our first lunch date out with Dad, Daddy and Megan at our friend's wonderful restaurant: Roz's Rice Mill in Pawleys

Hi there bright eyes

All dressed up...let's go

Absolutely

Does this dress make my behind look large?

Look at the diamond earlings Grandma Littlefield bought me! I can't wait to get my ears pierced (but you WILL wait a while says Dad!)

Another bow in my hair

My first bath! Notice my cute belly button now that the dried cord came off! (This picture looks weird...no, Tommy's fingernails aren't painted...that's Donna, Carrigan's Mimi lending a hand!)

I liked my first bath. Ah, the feeling of clean!

Carrigan, please rub my belly! I'm being so good and patient with you.

Dad couldn't be any happier than right now

Day nap wearing my cool kimono!

Tommy got creative. What a beauty!

This is the picture we'll use to embarass Carrigan when she's a teenager!

I'm your next model, Anne Geddes!

Be careful not to swallow watermelon seeds...this is what happens!

All the family watching TV

I think therefore I am

Cuddle bumps

Give Daddy a kiss!

Rock & roll biker babe!

Good morning Dad

I'm starting to observe everything around me

Travel attire. Ready to drive 5 hours to Hendersonville to see Mimi, PaPa, Ma and family

Let me hold on Dad

Ah, once again I'm in the arms of Ma

Hi PaPa

Great Aunt Bonnie

Carrigan, Ma and Carrigan's cousin Layla

Larua, Carrigan and Brandon (Tommy's brother as if you couldn't tell)

Tommy, Carrigan, Ma, Brandon and his daughter Laya

Cousins born within a month of each other

Daddy, my nails need a trim

Now this is fashion!

Layla & Carrigan in Mimi's new outfits

Hi Mimi

Layla, Carrigan and their great Grandpap (Tommy's mother Donna's father)

Stretch...I'm growing

I still have my cheeks

Someone to watch over me

Our friends Chotsie and Lynda visit!

Cuddle bear

My Betsy Johnson onsie...another great woman...Marilyn Monroe

Our first trip to the mall

I'm ready for the mall, Dads!
6-9 days old - Jul 31 - Aug 3, 2006: Travel home
We had a tough and tearful goodbye with leaving our family in Utah. Carrigan was better on the flight back than we were. Meeting us at the airport was Carrigan's grandmother, Donna (Tommy's mother), who is thankfully staying with us for a week. She was so happy to meet her granddaughter. We were thrilled with a surprise visit Thursday morning by Tommy's father (Tom) and grandmother ("Ma"). Carrigan got to love and cuddle with both of them making for a wonderful first day home!
you can click on any picture for larger image
Sleeping angel on Earth

Its hard leaving our family in Utah

You better spoil this one or else, says Grandpa

How can I let you go, says Grandma

Jeff with Spencer, Tommy with Alli, Grandma with Carrigan, Jake in back, Marci in front

I'm ready for my flight, Dad

Finally, we arrive in South Carolina! Another wonderful grandma (Tommy's mother Donna who will be called "Mimi" by Carrigan) is here to love and spoil me!

2 tired Dads + 1 thrilled "Mimi" + 1 sleepy baby = 1 happy family

Mimi knows what to do

Tommy's grandmother Ma's visit was a wonderful surprise!

Oh Ma, this feels good

Tommy's father Tom (Carrigan will call him "Pa-pa") with Kitty right behind

Daddy, Pa-pa and Carrigan

Pa-pa's loving hands. (We've now found the magic of the binky!)

Kitty is not quite sure what to make of Carrigan. She's given her a few licks on her head. Kitty now assumes bodyguard position watching over her sister, Carrigan.

What an honor to be in Ma's arms

"That's it, I'm going to Grandma's"
5 days old - July 30, 2006: A blessing in Utah
Several months ago before Carrigan was born, we purchased a beautiful blessing gown made of lace, linen and organza at store nearJackson Square in New Orleans. We presented a lace hankie made from the same material as the blessing gown to Jeff's mom and two sisters (Patti and Vicki). Jeff's family gathered at his sister Vicki's house for Carrigan to receive a blessing. Vicki's husband Brook offered a beautiful prayer with the family gathered around. It was a wonderful, spiritual way to welcome Carrigan into our family and the world and to seek all of God's blessings for her, the future and for Tommy and Jeff as parents. After that we celebrated second cousin Spencer's 7th birthday. A great family night and Carrigan was a jewel.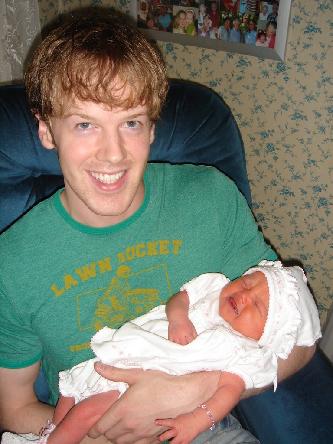 Cousin Mitch meets Carrigan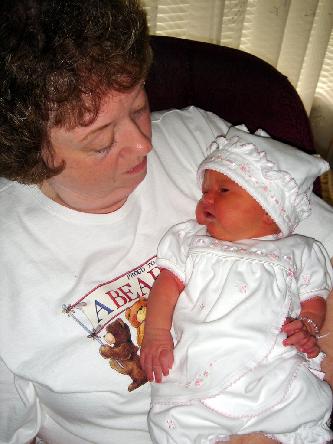 Aunt Patti loves Carrigan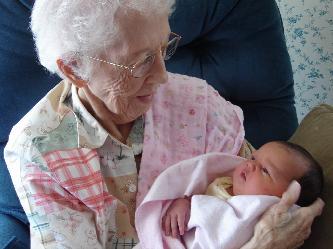 Grandma has such soft hands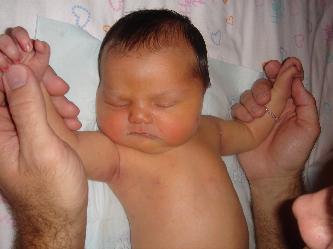 Big day ahead, let's stretch it out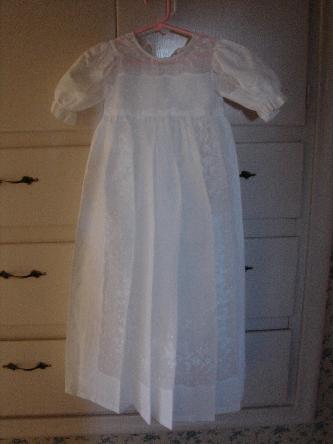 Grandma showed Dad (Jeff) how to iron and keep the pleats. When Jeff hung the dress in the hallway he noticed a magical light coming through the front window. It illuminated the blessing gown with an angelic quality.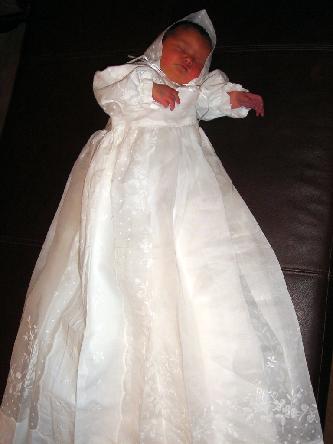 Carrigan is a doll in a dream dance waiting for her blessing.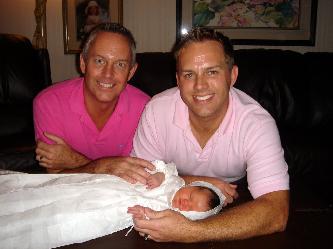 I've got a firm grip on both Dads' fingers (and hearts)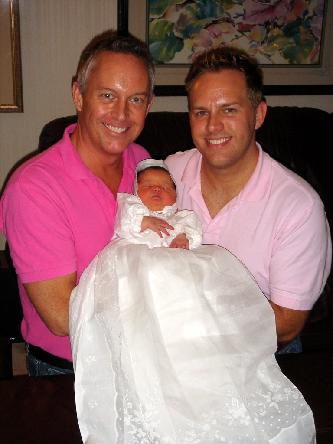 We humbly present Carrigan to our family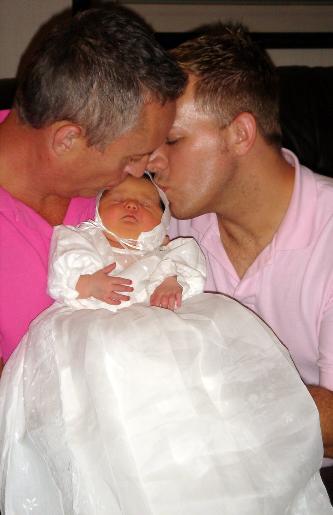 The blessing of parents who love you
The blessing of grandparents unconditional love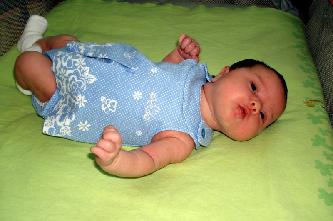 Jeff's immediate family: Patti, Tom, Jeff, Carrigan, Myrtle and Vicki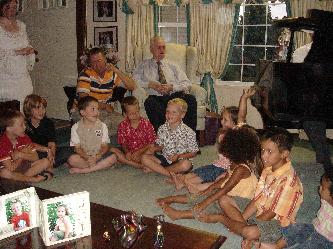 All of Carrigan's second cousins sing her a song ("I am a child of God")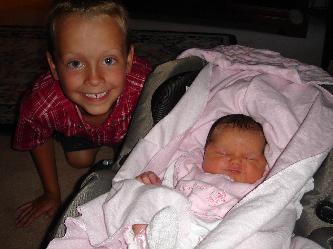 Hunter thinks Carrigan is cute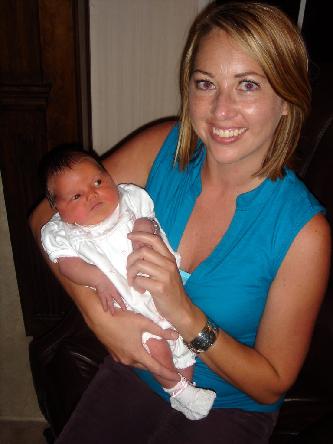 Cousin Weebie (Audri)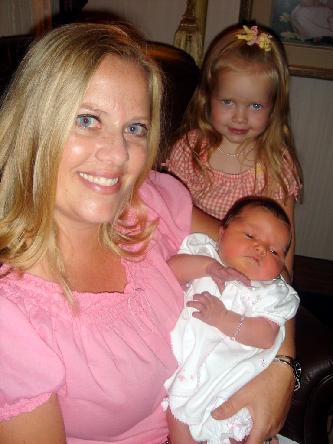 Cousin Marci with her beautiful daughter Ali and Carrigan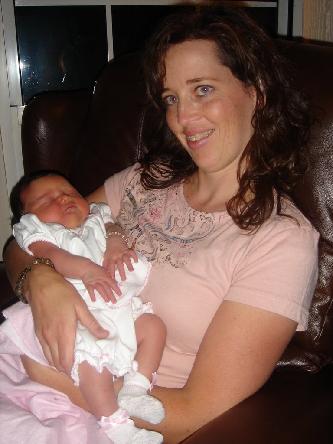 Cousin Kami so sweet with Carrigan
4 days old - July 29, 2006: In Utah to visit Jeff's family
We were two nervous dads (July 28) driving the hour from our hotel to LAX airport in heavy weekend traffic. We made it through security by figuring out one of us would hold Carrigan while the other took his shoes off and got the computers out of the bags for scanning. The flight was thankfully uneventful and smooth. Carrigan, as we've been saying all along, was a complete angel. No crying or fuss, she slept the entire time. We arrived around midnight to Jeff's parents house where Carrigan got to meet her Grandma Mrytle and Grandpa Tom. It was a joyous, once in a lifetime event.
The next day, both of Carrigan's Aunts (Patti and VIcki) along with several cousins and second cousins dropped by. Carrigan, of course, was perfectly cute.
you can click on any picture for larger view
| | |
| --- | --- |
| At last, "air" time before my next wardrobe change | No more photos Dad! A girl needs her private time. |
| Portrait of a great role model and woman (and a great woman to-be) | I love grandma's cuddle |
| I hope I can be as wonderful as Grandma when I grow up. | Family laughter and love |
| Vicki, Alli and Jenni with gift for Jeff & Tommy | Its a wonderful carved figure of a father and child |
| Jeff & Vicki share a tearful moment of joy | Cousin Marci with Alli (such a beauty) |
| Marci has great advice for the Dads | Cousin Audri teasing Tommy |
| Alli with Tommy | Alli teaches Tommy how "Itsy bitsy spider" goes |
| Proud and happy Daddy | 2nd cousin Alli, Aunt Vicki & Carrigan |
| Aunt Vicki | Alli, Audri with Carrigan |
3 days old - July 28, 2006: Getting ready to fly to Utah later tonight!
We hate to even say it (because it may jinx us), but Carrigan is so easy-going, sleeps hours on end, eats well, makes the cutest faces and sounds, and loves to cuddle. Hardly ever a cry. And cute too? How blessed are we...very much so!
We prepare today to leave Los Angeles and fly to Utah to see Jeff's Mom & Dad and all of our relatives. More pictures later.
you can click on any picture for larger view
| | |
| --- | --- |
| Friday morning after a good night's sleep with Dad Jeff taking charge while Daddy Tommy got some well deserved sleep. | I've slept so well all night, Dad, so why are you waking me up again to eat? |
| What, no ribbon in my hair yet? | OK Dad, I'm ready for a diaper change, just don't lose my Mary Jane's |
| I love cuddling with Dad! | Nap time in Daddy Tommy's lap |
| Would you stop taking pictures Dad? I'm trying to sleep! | Tommy got a good night sleep |
2 days old - July 27, 2006: Breaking out of the hospital!
you can click on any picture for larger view
Hi there. I get to leave the hospital today and start my journey home with my Dad & Daddy

My cheeks may be chubby but I'm not!

Bright eyes

I'm ready for my close-up

Daddy, they poked me for blood again on my hand!

Jeff, Tommy, Carrigan with Stefanie

Tommy: 48 hours no sleep - YES its worth it just look at her!

Dad Jeff learning from Carrigan the hard way: never wear black shirts with a baby!

Daddy has the touch to make her sleep

First look at sunlight as Carrigan leaves hospital. Its a big world out there!

Thank you Stefanie for taking such good care of me for the last 8.5 months

I know this keeps me safe as we drive away from the hospital but I don't look very dignified

At last! I'm away from the hospital and can stretch out a bit in my groovy folding portable crib

Thanks Daddy for keeping me clean...be careful of that belly button

Ahhh fed and clean. Time for sleep.

I like holding Dad's finger, it let's me know I'm safe

I have room to stretch. Feels good. It was getting tight in Stef's belly!

Oh and Daddy, one last thing, we need a......

This is certainly better than the hospital attire

With the help of friends, I already have my own brand name and logo

I know things about the universe that you don't know Dad & Daddy. I'll show them to you along the way.
---
1 day old - July 26, 2006: Jeff & Tommy rush to greet Carrigan

| | |
| --- | --- |
| The best day of Jeff & Tommy's life! We have a daughter. We get goose bumps just saying it. | Cute long feet and slender toes. A little blue from getting bruised during the birth. |
| Carrigan takes to formula well | Oh yes, I've waited my whole life for this single moment |
| | |
| Warm, fed, held and loved...the answer to all of the world's problems | Carrigan loves being cradled in Dad's arms |
| This moment once seemed impossible | |
| | Welcome to your first day, Carrigan |
---
0 days old - July 25, 2006: Carrigan is born!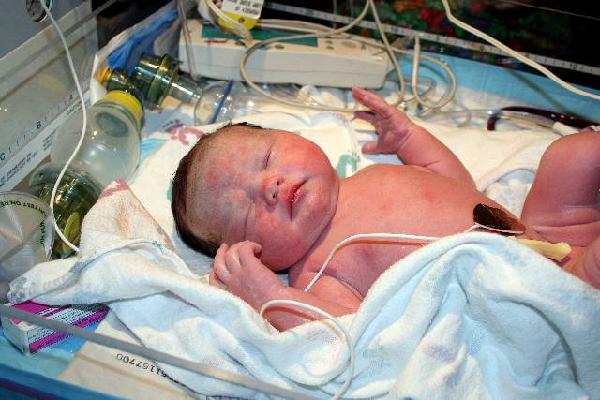 Here I am just after birth. Surprise, I have a lot of dark brown hair!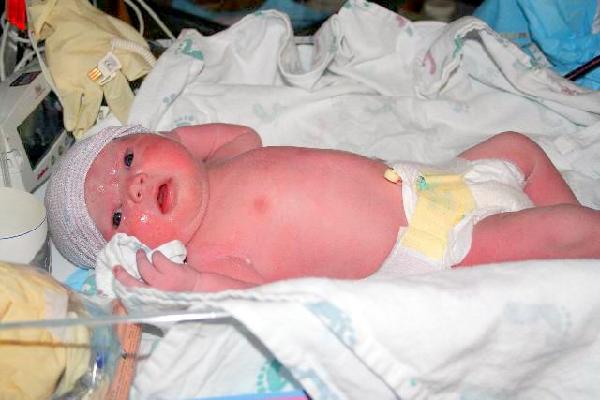 I also have a perfect button nose and big beautiful eyes (oh...and...very chubby cheeks that probably hide my high cheek bones)