Over the past five years or more, Tommy and I have explored many possibilities for building a family. We've attempted adoption and other surrogacy approaches with many setbacks and frustration from the legal challenges we face. We had abandoned the journey.
Then suddenly, we found a new path and now we're engaged on the journey of having a precious baby! I want my family and friends to know what I'm feeling on this journey. More important, I want our baby to be able to read about the hopes, fears and joy dad Jeff felt waiting for him/her to be born.
Tuesday, November 21, 2006 -
Today was Mom's funeral. She wanted it to be a family affair and even though she was a very devout Mormon and went to church often, she did not want the service to be in the church, so it will be in the funeral chapel. Thinking about this, I wonder if she thought that maybe Tommy and I would be uncomfortable in the church, so that's why she decided to have it at the funeral home. I know she told me that she firmly believes the church's position on Tommy and my love for each other is wrong. So maybe it was her way to make a statement about what is right (our love for each other and Carrigan) and wrong (the church's position on our love and family). That would be like my mother...anticipating everyone else's needs even at her own funeral.

We were surprised and happy that our best friend Mark came from South Carolina to be with us during this difficult time. Thank you Mark...this means a lot to me...to us.

My sisters Vicki, Patti and I spoke at her service. My sisters asked Tommy to open the service and give Mom's eulogy. He did an amazing job. The grandchildren sang songs and spoke of their most memorable moments with grandma. The great grandchildren also sang a couple cute songs. Even though it was the day I've most feared all my life...the day of my mother's funeral...it turned out to be a day filled with love and memories. Dad did OK with Tommy and me taking turns throughout the week watching over him, staying up with him throughout the night, and trying to comfort him during his (and my) tears at losing his wife of 65 years.

The last week of Mom's life while she was under hospice care, my dad stayed with her 24 hours day and constantly held her hand. It was the most wonderful, sad, loving thing I've ever seen.


Here is what I said at my Mom's funeral service:
I came along 10 years after Vicki was born. Mom had had several miscarriages during those 10 years but her desire to have another child was strong so she kept trying.

So when I was born, the only baby boy, I was spoiled a little bit too much. But oh how I was loved by her.

Luckily, her love was more powerful than being spoiled so I think I turned out OK.


Now, Iím 50 years old and Iím still my Mamaís baby boy and I feel small and helpless today.

But, I know I am loved by my Mom and my Dad to the core of my being.

What a wonderful feeling!

It gives me the strength and confidence to live my life openly, out and assured. Her love for me helped me overcome some serious insecurity issues and in turn my confidence and the way Iíve lived my life helped my Mom become more assertive and strong in her later years.

My Momís love and her sensitivity for others was amazing.

She never wanted to impose on anyone; she never wanted to trouble anyone.

When we would go shopping she didnít want to impose on the clerk to ring up her purchases.

She was almost timid in ways when I was young.



I donít think she ever said an unkind word about anyone, even when some people deserved it!

Later in life, she really did become a much stronger woman, much more sure of herself, much more willing to veer away from dogma and to embrace the truth about me. She knew in her heart and mind whatís right and she rejected narrow-minded opinions about what others consider wrong.

As a boy, I spent a lot of time just watching Mom cook.

She spent hours making dinner rolls from scratch that were so light and wonderful, they almost vanished upon hitting your tongue.

I looked forward to helping her break bread the night before each Thanksgiving and Christmas to make the stuffing for the turkey.

It was always Wonder bread and the broken bread was always placed in the same pot she used to make her famous pot roast and then it was covered with wax paperÖnot foil or plastic wrap.

The next morning, I would wake up early and watch while she cut the onions and celery.

I was always concerned because she always cried from cutting the onion.

ďWhatís wrong mommyĒ I remembered asking her once and she said ďOh honey, itís just the onion that makes me cry.Ē

I think the onion made her cry just a little more after her baby boy showed concern for her.

Iím so glad I watched and learned how to cook many wonderful meals and desserts from Mom.

Tomorrow night in my Mom and Dadís house, Iíll break the Wonder bread into the pot roast pan and cover it with wax paper.

Then Iíll get up early Thanksgiving Day and finish the stuffing and cook the turkey just like Mom.

As we sadly eat our Thanksgiving meal, Dad will undoubtedly say ďitís almost as good as your Momís.Ē

Mom was very particular about manners at the table, being courteous to everyone and we had to use proper grammar!

We were always corrected by Mom when our grammar and use of the English language was incorrect.

Thank goodness for this!

Her loving insistence that we speak and write correctly helped me be comfortable with English and has helped me excel at work.

Iím sure she would have made a few notes and improvements on my comments today.



Mom had so many hopes and dreams for me and along the way, I caused her many heartbreaks.

We went through a tough 5 years or so when she found out about me. This was when I lived in Seattle, more than 17 years ago. Every time we'd talk on the phone over those five years, she'd cry because she loved me so much. She thought I would have a miserable lonely life, not be able to have a good job and most devastating to her... that I would never have children...a family.

Well, for the past 10 years I've had a very happy life with Tommy and our wonderful little Yorkshire terrier dog we named Kitty.

Oh how my Mom loved Tommy.

She thought he was perfect for me and she was truly happy about us.

I have wonderful friends I love, one of whom, Mark, flew to be here today from South Carolina.

Thank you Mark!

I have a job I love and I've been able to do very well with it...and this July I fulfilled my mother's most cherished wish Ė to have a child.

Our beautiful baby girl came into our lives.

My motherís most heart-filled wish of me having a family was complete! We named our baby Carrigan Shea Starling-Littlefield.

Carrigan was Momís maiden name.

We love the name because we love the woman and extended family from which it came.

My mother was the

FIRST

person I called when we started down the journey to having a baby five years ago and she was the

FIRST

person I called when we found out we were pregnant.

My greatest fear and constant prayer was for my mother to still be alive to meet Carrigan, her 10th granddaughter.

Those prayers were answered.

Just a few days after Carrigan was born this past July, we came to Utah.

Mom and Carrigan bonded immediately as every grandchild has loved their grandma Littlefield.

She held Carrigan for hours until her arm hurt too much.



The other blessing we had was just last week when I got to Utah to be with Mom during her last days, I brought Carrigan.

Mom had been in and out of knowing what was going on around her but when we walked in the room, Mom knew we were here!

Mom gently stoked Carriganís arm, said the word ďbabyĒ, smiled a little and whispered that she loved me.

I told her I loved her and thanked her for being a loving mother. Those minutes with Mom and Carrigan were a blessing I will cherish all my days.



Thank you, dear God, for allowing my mother to meet my daughter and for those last few loving moments with Mom.

Please help me be as loving a parent to Carrigan as Mom was to me. Thank you.

My mom has only ever known and shown

complete

and absolute pure love for me and my sisters, Patti and Vicki and our father, Tom.

My mother was an angel on Earth.
She influences everything I do.

All that I am and all that I can be are because of Mom and Dad.



And now, Mom is an angel in heaven just as she was on Earth.

I know she is here today and will be beside me always - in my heart forever.



I miss you Mom. Your little boy loves you - always and forever.
Friday, June 9, 2006 -
Letter to the editor:
Some legislators at both state and federal levels support changing the constitution to ban same-sex marriages because they want to "protect the sanctity of marriage from activist judges." They are wrong. If they really want to protect the "sanctity of marriage" they would allow same-sex marriages and, instead, pass legislation to:
Outlaw divorce and make extra-marital affairs illegal
The ability to divorce shatters the so-called "sanctity of marriage." People who have sex with others outside of their marital partner destroy the "sanctity of marriage." Of course passing legislation like this is as absurd as changing the constitution to ban marriage between two people of the same-sex who love each other.
Any legislator who has been divorced or had an extra-marital affair must excuse himself from voting on any legislation about protecting the "sanctity of marriage." Those who do vote are complete hypocrites.
Wake up America and bring back inclusive democracy.
Sincerely,
Jeff Littlefield, Pawleys Island, SC
Saturday Mar. 18, 2006 -
Bean is a girl! WOW!! We went with Stefanie this morning to Prenatal Peek here in Murrell's Inlet while Stefanie and her children visit with us in South Carolina. (More on the wonderful visit will be posted soon). We were thrilled to tears to see wonderfully clear 4-D ultrasound moving pictures of Bean. A couple minutes later the clinician confirmed that our baby is a girl!!! Tommy and I selected a girl's name before we were even confirmed as pregnant. It would be (and now will be) Carrigan. That is my mother's maiden name as you can see from my journal below. We love the name because its strong, unique and a loving tribute to the woman we both love. So now Bean is Carrigan!!
We debated many middle names over the past few months. We knew it needed to be short because Carrigan XXXX Starling-Littlefield is already a LONG name. We stumbled onto the word "Shea" and loved it.
So, we are thrilled to announce that Carrigan Shea Starling-Littlefield is doing very well. She already has both of her daddies wrapped around her cute little fingers!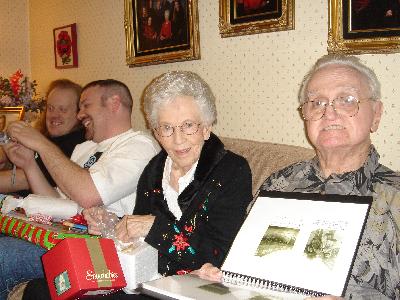 My dad and mom
Sunday Mar. 12, 2006 -
I've not updated my journal in awhile. Work has kept me occupied...too much so. I'm determined to get my focus back on the journey to becoming a father. Last weekend I was able to visit my parents in Utah. They're doing well. My father's birthday is coming up in April. I was able to get an entry read into the Congressional Record to acknowledge my father's contributions. You can read the entire text in a box below. This was made possible by tremendous help from our friend Bill O'Neil in Washington DC!
My first job was working in an elementary school as a part-time janitor. I was in high-school. I would work 4 hours after school each day vacuuming and emptying trash in each of the classrooms. I actually enjoyed this job and did it for about a year and a half. Anyway, when I was a senior in high school, I tried out and got the lead role as Tevye in Fiddler on the Roof, our big musical stage production of the year. I had played in many other shows with small roles and I enjoyed the acting and singing stuff. (I know, could I have been any more stereotypical!). Well, my role in Fiddler was huge...a lot of dialogue and probably a dozen songs with complicated staging and choreography.
I could not do my janitor job and be in Fiddler because rehearsal was about 6 hours every night. My father, without me asking, began to do my work as a janitor every night for me! His "day job" was an elementary school principal (at a different school). He would work there 8 hours a day then go be a janitor for me 4 hours every night. This went on for probably six months! He did this so I could continue to keep the job but more important, he realized my role in Fiddler was an important milestone in my development. It finally allowed me to gain self confidence that I had lacked.
My dad's selfless devotion to me and all of his children and my mother was remarkable. I hope and pray he will be alive and alert enough to get to know and love Bean. Thanks Dad for your devotion, love and guidance! I love you.
Congressional Record - Tuesday, March 7, 2006

HONORING A GREAT AMERICAN—THOMAS WADSWORTH LITTLEFIELD

HON. HENRY E. BROWN, JR.OF SOUTH CAROLINA IN THE HOUSE OF REPRESENTATIVES

Mr. BROWN of South Carolina. Mr. Speaker, a constituent and respected businessman, T. Jeffrey Littlefield, vice president of TRICARE North Region Operations for PGBA, LLC, will soon be joined by many members of his family in recognizing their patriarch, Thomas Wadsworth Littlefield, on the occasion of his 87th birthday, April 8. The quote that his son Jeff recalls hearing his father say often is ''this too shall pass.'' In living by these words, Mr. Littlefield sought to give strength to his family when faced with challenges that seemed too great to bear. Like many of his generation, he knew firsthand the frequency and degree to which life could present great challenges. It is the sad horror of human existence that there will always be evil leaders who would deprive others of life and liberty to satisfy their own zealous quest for corrupt power. Never was this more evident than during World War II. Men such as Thomas Wadsworth Littlefield represent the very backbone of America—having sacrificed so much for the good of family, nation, and religious freedom—their collective actions singularly define them as our ''Greatest Generation.'' When he joined battle and fought bravely in the last offensive against Japan while serving as a Private First Class in the U.S. Army's 105th Infantry, H Company, at Okinawa, Japan, Mr. Littlefield faced threats and fears that most of us will, thankfully, never come to know. Like many American soldiers, his military service did not end there as he fought to defend liberty in numerous locations in and around Japan throughout World War II. In living commemoration of the great Victory over Japan, known commonly as ''VJ Day,'' he named his second daughter, Vicki Jane Littlefield (''V.J.'') born in August of 1945, soon after Japan surrendered. Not long after winning the peace, Mr. Littlefield returned to civilian life and worked to win the hearts and minds of faculty, parents and children as elementary school principal in the Weber County school district of Ogden, Utah. There, he labored for 30 years, laying the foundation for a new generation of American leaders; eventually retiring at age 65.

Before the war, Mr. Littlefield attended Weber State College (now Weber State University) in Ogden, where he led them to numerous victories as their football quarterback. Later, he attended Utah State University in Logan, Utah, where he received his educator's degree.

An avid sports fan, he always enjoyed snow skiing, tennis and exploring the trails of Mount Ogden on his dirt bike several times a year. Raised on a turkey farm in Morgan, Utah along with eight brothers and sisters, his mother, Kate Wadsworth Littlefield, helped to nurture leadership in their family by serving as an active Republican event organizer and as the first female United States Postmaster in Morgan County, Utah. A faithful follower of the Church of Jesus Christ of Latter-Day Saints, Mr. Littlefield was always active in church events and, together with his wife of 65 years this coming June, raised their family as Mormons. Thomas Wadsworth Littlefield and Myrtle Carrigan Littlefield have been blessed with nine grandchildren and nine great-grandchildren. In August of this year, T. Jeffrey Littlefield and Tommy Starling will share another blessing, as this loving family will welcome grandchild number 10 into the world.

Throughout his life, Mr. Littlefield's philosophy and outlook on life was to make sure that his children were raised with love and to instill in them the confidence, drive and an ambition to succeed. In so doing, it was his fervent hope to see his descendants achieve more than he could ever experience in his own life. A testament to his service, sacrifice and values, Mr. Littlefield will be joined by family members in presence and in spirit on April 8 to herald the celebration of his 87th birthday.

At this time, Mr. Speaker, I would like to recognize, individually, the names of those so dear to this great American: Thomas Wadsworth Littlefield, Father; Myrtle Carrigan Littlefield, Mother; Joseph Littlefield, Paternal Grandfather; Kathryn Wadsworth Littlefield, Paternal Grandmother; Irvin Carrigan, Maternal Grandfather; Catherine Jones Carrigan, Maternal Grandmother; Patti Ann Fowers, Daughter; Norman George Fowers, Son-In- Law; Holly Fowers, Granddaughter; Heather Fowers Smedley, Granddaughter; Daren Smedley, Heather's husband; Jonah Smedley, Great Grandson; Annabelle Smedley, Great Granddaughter; Tommy Fowers, Grandson; Nate Fowers, Grandson; Kaleb Fowers, Great Grandson; Mitch Fowers, Grandson; Vicki Jane Olson, Daughter; Brook Clyde Olson, Son-In-Law; Marci Olson Kiehl, Granddaughter; Sam Kiehl, Marci's husband; Jake Kiehl, Great Grandson; Spencer Kiehl, Great Grandson; Alli Kiehl, Great Granddaughter; Kami Olson Howe, Granddaughter; Chad Howe, Kami's husband; Conner Howe, Great Grandson; Hunter Howe, Great Grandson; Rylie Jo Howe, Great Granddaughter; Audri Ann Olson, Granddaughter; Jenni Olson, Granddaughter; Thomas Jeffrey Littlefield, Son; Thomas Brent Starling, Partner and future Son-In-Law; and Carrigan Shea Starling- Littlefield, if the latest addition to their family is a Granddaughter, or Hayden Thomas Starling- Littlefield, if the newborn is a Grandson.

War veteran, educator, father and grandfather, athlete, and loving husband, his life and service to our nation helped to forge a nation and spread Democracy the world over.

Mr. Speaker, I respectfully ask my colleagues in the U.S. House of Representatives to join me in congratulating Mr. Thomas Wadsworth Littlefield and his extended family on the occasion of his 87th birthday.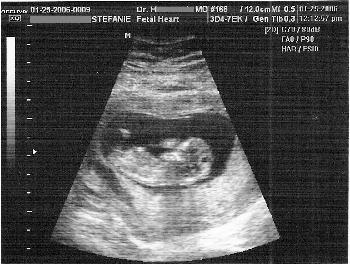 The first time, ever I saw your face....
Wednesday Jan. 25, 2006 -
Oh my. OH MY. Just now, looking at and really seeing our precious little baby because of today's surprise ultrasound hit me like a ton of bricks. I AM going to be a father. Tommy and I ARE going to be daddies. Stefanie called very excited with the details she was amazed to see in Bean today. After I got over being angry that we weren't there with her to see it for ourselves...and after I downloaded the ultrasound pictures Stef emailed me...and after I improved the photo quality with Picassa to get the best details...
…I THEN looked into our baby Bean's FACE and saw his/her eyes...
This is the most humbling moment I have ever had in my life. How wonderful and joyful and tearful I feel at this moment! It's now becoming real. How blessed we are to live in this time and this age when all good things are possible!
I am looking at, astounded by and moved to tears because of the immediate LOVE I feel for our BABY from on an ultrasound image I received by email that was taken earlier today 3,000 miles away of our 2 inch BABY who is only 12 weeks old from conception. The careful, complicated and sometimes frustrating steps we've taken on this journey to get to this point ALL seem worthwhile. Please let the blessings of having a healthy child and the guidance of how to build a happy family continue.....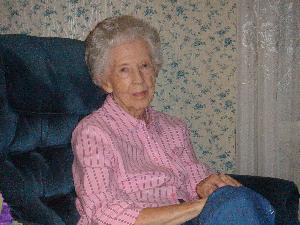 My mom, Myrtle Carrigan Littlefield
Tuesday Jan. 10, 2006 -
I think a lot about my parents. My dad, Tom is 87 and mom, Myrtle is 86. I just talked to my mom and she sounds like she's had a good day and is feeling better than usual. We went through a tough 5 years or so when she found out about me. This was when I lived in Seattle, more than 15 years ago. Every time we'd talk on the phone over those five years, she'd cry because she loved me so much. She thought I would have a miserable lonely life, not be able to have a good job and most devastating to her... I would never have children...a family. Well, for the past 10 years I've had a very happy life with Tommy and then Kitty, I have wonderful friends I love, I have a job I also love and I've been able to do very well with it...and NOW I can fulfill my mother's most cherished wish - I will be having a baby, a family! My mother was the FIRST person I called when we started down this journey years ago and she was the FIRST person I called when we found out we were pregnant. My mom has only ever known and shown complete and absolute pure love for me and my sisters, Patti and Vicki and our father, Tom. I'll talk more about my mom here in later entries. But know this, my mother is an angel on Earth. She influences everything I do. More to come.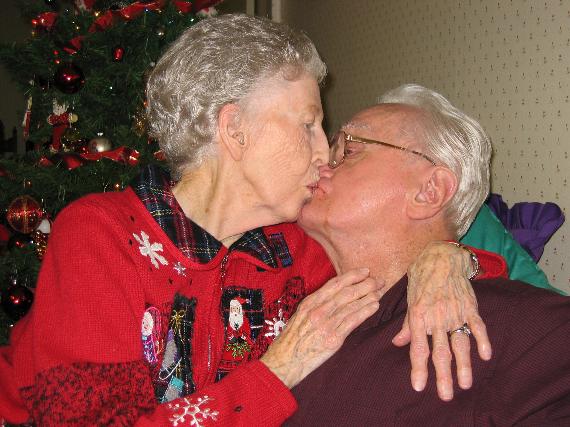 I love this picture of my parents. Christmas 2004
Sunday Jan. 8, 2006 -
Tommy's been away working in North Carolina since Friday. He won't be back home until Sunday next week. I miss him and go a little crazy when he's not home. At least he was able to visit his grandparents (Ma and Pa...the sweetest people in the world) and his mother and father this weekend. I have Kitty and she's never left my side all weekend. Tommy sent me an email about the myth of how you can tell the sex of the baby by their heart beat. Bean is now 9 weeks old with a heartbeat of 180. Here's what Tommy sent:
Myth: Fetal heart rate can indicate your baby's sex.
Truth: A normal fetal heart rate is between 110 and 160 beats per minute (bpm), although some people think if it's faster (usually above the 140 bpm range) it's a girl and if it's slower it's a boy. But there have been no studies that conclusively show that heart rate is a predictor for a baby's gender. Your baby's heart rate will probably differ from prenatal visit to prenatal visit anyway - depending on the age of the fetus and activity level at the time of the visit.
So does this mean we might be having a girl? Would I rather be having a baby boy? All that matters is that we have a healthy baby and that we become the best parents possible.
Saturday Jan. 7, 2006 -
I use the word journey a lot lately when talking about having a baby. I'm learning that life is what you experience along the path of the journey, not in reaching the destination. If I can learn to really live in the moment and treasure now...be in the journey...then I will appreciate the destination more upon arrival. I'm glad (and I pray) that the baby will take 9 months to arrive. There's no way I can hurry-up reaching the "destination." This means I will have time to enjoy, and learn from the journey to becoming a father.
As perfectly stated by one of my favorite sci-fi novelists, Ursula K. Le Guin: "It is good to have an end to journey toward; but it is the journey that matters, in the end."
Friday Jan. 6, 2006 -
How do I start an entry without the word "I"? Guess I just did. :) Today, Stefanie had her second ultrasound. Neither Tommy nor I could be in LA with her this time. I'm happy that Stef's friend Jeff could go with her. The results were great! The doctor told Stefanie that "Bean" had a strong heartbeat and was developing exactly as expected. Every time I have total fear about something going wrong with the baby's development I have to reassure myself that every parent must feel this way. I can't begin to express how much I appreciate what Stefanie is doing for us. I know she's had a rough couple of weeks and hope she's less sick soon. I hope and pray that little Bean will continue to thrive...
Thursday Jan. 5, 2006 -
I'm normally very reserved. I keep my feelings and emotions to myself. So starting this journal is taking more courage than usual. I've been writing notes on pieces of scrap paper over the past two months because I've been overwhelmed with various emotions about having a baby. So, (gulp) I'm going to pull the notes out of my briefcase and start this journal. We'll see how it goes.