Carrigan a half-hour after birth
Carrigan was born at week 38!
Carrigan was born July 25, 2006 at 10:48pm Pacific Time. She weighed 8 pounds, 2 ounces. She was 18.5 inches long. Lots of dark brown hair, beautiful ears, slender fingers and toes, the perfect nose, and incredibly chubby cheeks! She is very healthy, takes formula well, sleeps soundly in 4 hour segments...and will be incredibly spoiled.
This picture made possible by our friend Heath - thanks for being there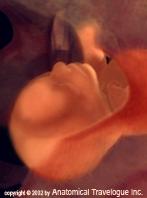 Week 37
Carrigan at week 37
At 6 ½ pounds and 21 inches long, Carrigan is doing well. She's learning what it's like to breathe, inhaling and exhaling amniotic fluid to perfect her skills. She can also suck her thumb, turn her head, swallow, blink, and grasp.


This information and picture from AOL Parenting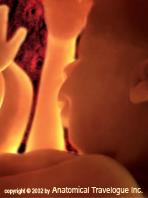 Carrigan has become plumper, which keeps her temperature at about 32 degrees higher than Stefanie's
Carrigan at week 36
Carrigan weighs approximately six pounds and her full length is about 20 ½ inches. She continues to put on fat, which will keep her warm and help her regulate her body temperature when she's born.

This information and picture from AOL Parenting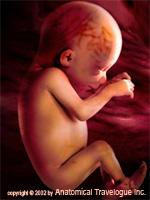 Week 35: Though growth of Carrigan's body slows down, her brain is developing rapidly
Carrigan at week 35
Good news! There's an excellent chance that Carrigan will have no complications if born at 35 weeks or later. She's 5½ pounds now and is nearly her full birth length at more than 20 inches. Her skull is still fairly soft and isn't yet completely fused so she can squeeze through the birth canal.
This information and picture from AOL Parenting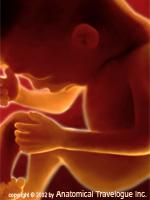 By this point, Carrigan has her own immune system
Carrigan at week 34
By the end of this week, Carrigan may weigh as much as 5 pounds and measure nearly 20 inches. As the uterine and abdominal walls stretch and thin, more light reaches the womb, causing her to open and close her eyes in response. It also helps her know day from night so she can cycle between activity and rest.
This information and picture from AOL Parenting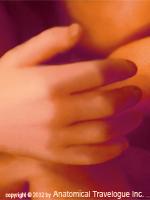 Fingernails reach over fingertips--Carrigan can now scratch herself!
Carrigan at week 33
Carrigan is almost 4½ pounds and is gaining as much as 8 ounces a week. She continues to grow like a weed, her arms and legs perfectly proportioned to the rest of her body. She measures a total of 19½ inches and has little room to wiggle, but she's still quite active, even if it means she has to squirm around most of the time.
This information and picture from AOL Parenting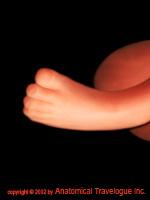 Carrigan's tiny toenails are fully formed by this stage
Carrigan at week 32
Our normally energetic baby has started to chill out a bit. Her movements feel more like squirms and rolls than hyperactive kickboxing sessions. That's because this week, when she's close to 4 pounds and 19 inches long, she has begun to run out of room (or should we say womb?). Beneath her skin is a nice layer of fat, and although she still relies on the umbilical cord for nourishment, her digestive tract is almost fully developed. Fetal brain scans show that babies this age actually have rapid eye movements, which means they're dreaming. Who knows what dreams now fill Carrigan's slumber?
This information and picture from AOL Parenting
As the womb becomes more cramped, Carrigan draws up her legs into the fetal position
Carrigan at week 31
Carrigan is packing on the ounces at such a clip that her weight gain outpaces the speed at which her limbs are growing. She's now 18 inches from head to toe and weighs about 3½ pounds. She's shedding the lanugo, and her eyebrows and eyelashes are filling in.
This information and picture from AOL Parenting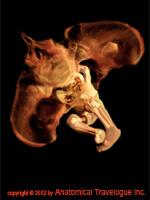 Red blood cells are now produced by the baby's bone marrow.
Carrigan at week 30
Rock-a-bye baby! Indeed, Carrigan goes to sleep now. When she's not asleep, she's busy making faces, bopping around, hiccuping, and nudging Stefanie. She weighs about 3 pounds and is 17 inches long. She's close to having a fully functioning nervous system that regulates the body -- her nerve fibers are now encased in myelin, which allows impulses to travel faster.
This information and picture from AOL Parenting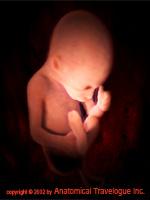 Carrigan begins to look paler as insulating fat fills in under her skin.
Carrigan at week 29
Every day, Carrigan is looking more like a full-grown baby than a fetus. By the end of this week, she'll weigh about 2¾ pounds and will stretch to about 16¾ inches long. For the rest of the trimester, she'll be bulking up and gaining approximately half a pound a week; between now and her birthday, she'll double or even triple in size. Carrigan's kicks and jabs are more vigorous now.
This information and picture from AOL Parenting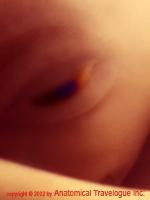 Carrigan's eyes now open during alert times and close during sleep.
Carrigan at week 28
At the end of the second trimester, Carrigan measures 16 inches and weighs about 2½ pounds, having doubled her weight in a month. Her brain tissue continues to develop folds and grooves on what once was a smooth surface. Even though she's bigger, she still has plenty of room to move around, so whatever position she's in right now will likely shift over the next three months.
This information and picture from AOL Parenting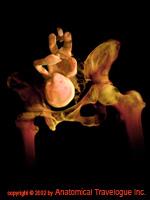 Carrigan's skin is wrinkled, though she's beginning to fill out with fat.
Carrigan at week 27
At 13 weeks from birth, Carrigan is now 15 inches from head to toe and tips the scales at a little more than 2 pounds. She's bulking up with fat to keep her warm after she's born, and her lungs continue to develop. Her immune system is also gearing up for life outside the womb. She has discovered thumb sucking, which isn't such a bad thing in the womb -- it helps strengthen her cheek and jaw.
This information and picture from AOL Parenting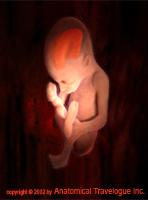 Extremely rapid brain growth begins, and will last until five years after birth.
Carrigan at week 26
For months Carrigan's eyes have been shut, but now they're almost fully developed and will soon be ready to open. Interestingly, whatever her ethnicity her eyes are blue at this time: The irises don't display their final color until a few months after birth. Carrigan's brain is maturing rapidly, and she's growing quickly. She's more than nine inches long and two pounds this week. She's still quite lean, but by the time we meet her, she'll be cute and chubby.
This information and picture from AOL Parenting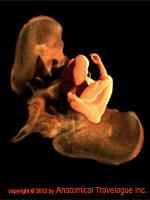 Carrigan's legs and feet, framed by the pelvis
Carrigan at week 25
This week, Carrigan is almost 9 inches long from head to rump and weighs approximately 1½ pounds. Her heart is beating loudly. Her lungs are getting ready to take their first breath, and though the sex of Carrigan was determined long ago, genital differentiation is now becoming complete. She can make a fist and reach her feet, and she may already exhibit a preference for her left or right hand.
This information and picture from AOL Parenting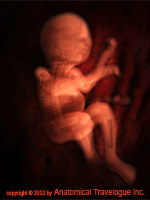 Carrigan is gaining a greatly strengthened skeletal system. She is moving more and more.
Carrigan at week 24
Carrigan is about as big as a box turtle (about 8½ inches from head to rump) and weighs a little over a pound. She has developed the sweet face we'll soon see, with eyes and ears placed just where they should be. She's big enough that she can no longer do cartwheels and tumbles, but she's just as touchy-feely with her surroundings as she has been. She's also even more attuned to sounds outside the womb. If a loud noise disturbs her, she may be restless for hours.
This information and picture from AOL Parenting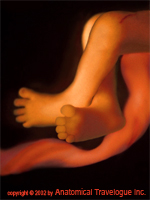 Blood rushes forcefully through the umbilical cord, and the fetal heart pumps 144 liters of blood through Carrigan each day.
Carrigan at week 23
Carrigan continues to put on weight, bringing her up to a pound this week, although with her red, wrinkly, and loose skin she's far from the bonny baby she'll become. Crown to rump, she's 8 inches long, and she makes the most of her space inside the womb, kicking back, stretching her arms, and trailing her hands along the umbilical cord. Carrigan can hear better now, and is especially sensitive to loud noises, which can startle her, making her heart thump and her arms flail. She much prefers soothing music or the faint sound of our voices.
This information from AOL Parenting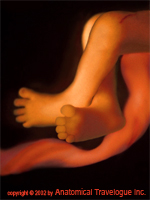 Carrigan Week 22 - Circulation is fully functional, and the umbilical cord continues to grow and thicken.
Carrigan at week 22
Slowly and steadily, Carrigan is getting bigger, topping 12 ounces this week and growing to 7½ inches from crown to rump. She won't be able to flash a toothy grin until months after birth, but growth is under way now to prepare for that camera-worthy day. Her first canines and molars are developing from hard tissue below the gum line. Carrigan has eyes now, although the irises have no pigment. Of the five senses, touch is the first to develop in the womb; our baby makes sense of her world by feeling her way around and registering the sensations as she rolls, kicks, and stretches. And now that she has a full set of neurons, she can process everything she's discovering around her.
This information from AOL Parenting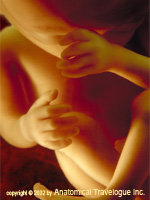 Carrigan at week 21 - More taste buds have formed than will be needed at birth, and the fetus already has a firm hand grip
Carrigan at week 21
Carrigan now measures about 7 inches from head to rump and weighs about 10½ ounces. Now that her digestive system is fairly sophisticated, our little one can swallow amniotic fluid, which makes for a surprisingly nutritious drink that helps fatten her up. The act of swallowing also preps her digestive system for the hard work it will do once she's born. Carrigan can taste what she ingests, thanks to taste buds that have developed on her tongue. Nerve cells are working overtime to make connections, and development continues its brisk pace for the five senses.
This information is from AOL Parenting
Tommy, Jeff and Carrigan get ready
(There's a lot more information to see when you click on the pictures below)
| | |
| --- | --- |
| Week 20 | Week 19 - Bean's a girl! |
| Carrigan at week 19 | Week 18 |
| Week 17 | Week 16 |
| Week 15 | Wow: Sweet: Week 14 |
| Baby with two daddy bears on Valentine's Day | Bean Week 12 - "The first time ever I saw your face" |
| Week 13 | Week 12 |
| Week 11 | Week 10 |
| Jan. 6, 2006: Bean at 9 weeks 1 day old, | Week 9 |
| This is what our nursery will look like | Our precious new "Bean" at 4 weeks! |
| Stef's friend Jeff on transfer day-amazingly clear day in LA! | Tommy making first scrapbook after transfer |
| Stefanie amused by Tommy's new passion | With Stefanie after Dr. Ringler successfully transferred two precious embryos |
| Our embryos before transfer - 8 cells large (3 days old) | Jessica and Holden's creativity! |
| Fun with Stefanie's great kids - Holden & Jessica | Day we meet Stefanie - Our surrogate...our Angel! |
| We meet new friends - Patrick and Jim | Anxious dads to be at baby training class |